PVC/UPVC (Polyvinyl Chloride) offers erosion and corrosion-resistant material suitable for a variety of residential, commercial, and industrial valve uses. CPVC (Chlorinated Polyvinyl Chloride) is a variant of PVC that is more flexible and can withstand higher temperatures. Both PVC and CPVC are lightweight yet rugged materials that are rust-proof, making them perfect for use in many water applications.
Ball valves made of PVC  and CPVC are commonly used in chemical processes, potable water, irrigation, water treatment and wastewater, landscaping, pool, pond, fire safety, brewing, and other food and beverage applications. They are a good low-cost solution for most flow control needs.
Advantages of PVC ball valve: light weight, strong corrosion-resistance, compact and beautiful appearance, light weight and easy installation, strong corrosion-resistance, wide application range, hygienic and non-toxic material, wear resistance, easy disassembly, simple and easy maintenance OK.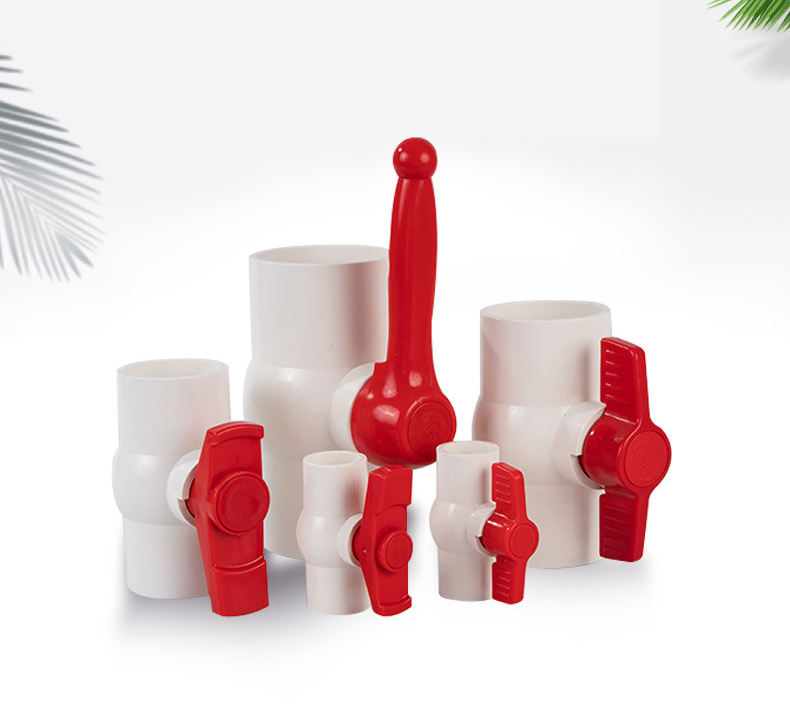 This 2 Pieces PVC Ball Valve has good corrosion resistance and long service life. And it is very flexible in rotation and easy to use. Adopting the EPDM seal, the integral ball valve is not easy to leak and has high strength. The connecting ball valve is easy to disassemble.
The medium used for cutting and connecting pipes can also be used for regulating and controlling fluids.
If you want to know more please click on the video to get more product details
Why Choose PVC Water Ball Valve
Light Weight:
The proportion is only 1/7 of the metal valves. It is convenient for handling and operation, which can save lots of manpower and installation time.
No Public Hazard:
The formula is environmental protection. The material is steady, without second contamination.
Corrosion-resistant:
With high chemical stability, plastic valves will not contaminate the water in the piping networks and can maintain the sanitation and efficiency of the system. They are available for water supply transport and chemical industrial facilities.
Abrasion Resistance:
That has higher abrasion resistance than other material valves, so the service life can be longer.
Attractive Appearance:
Smooth internal and external wall, low flow-resistant, mild color, and exquisite appearance.
Easy and Reliable Installation:
It adopts specified solvent adhesive for conjunction, it is convenient and quick for operating and the interface can offer higher pressure resistance than that of pipe. That is safe and reliable.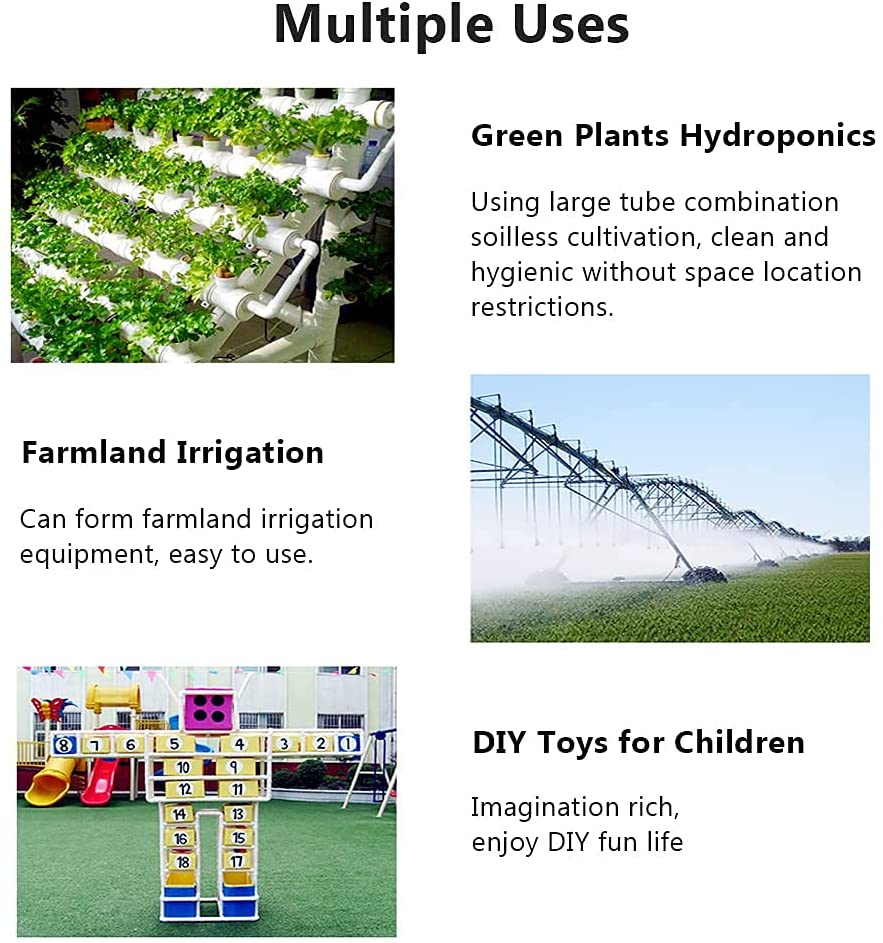 PVC ball valve Applications

HONGKE VALVE uses high-quality PVC material to manufacture ball valves, which makes the inner wall of the produced ball valves smooth and delicate, ensuring the smooth flow of water and shortening the time of water flow.
Each ball valve we produce is strictly polished by the technical department, making the surface of the valve body more lustrous and less likely to fall into dust.
At the same time, according to the different styles of ball valve handle we carry out handle special treatment, for example; butterfly handle of the ball valve, the technical department will be reinforced handle settings, set the anti-slip texture, in the rotation, adjust the size of the feel comfortable not slippery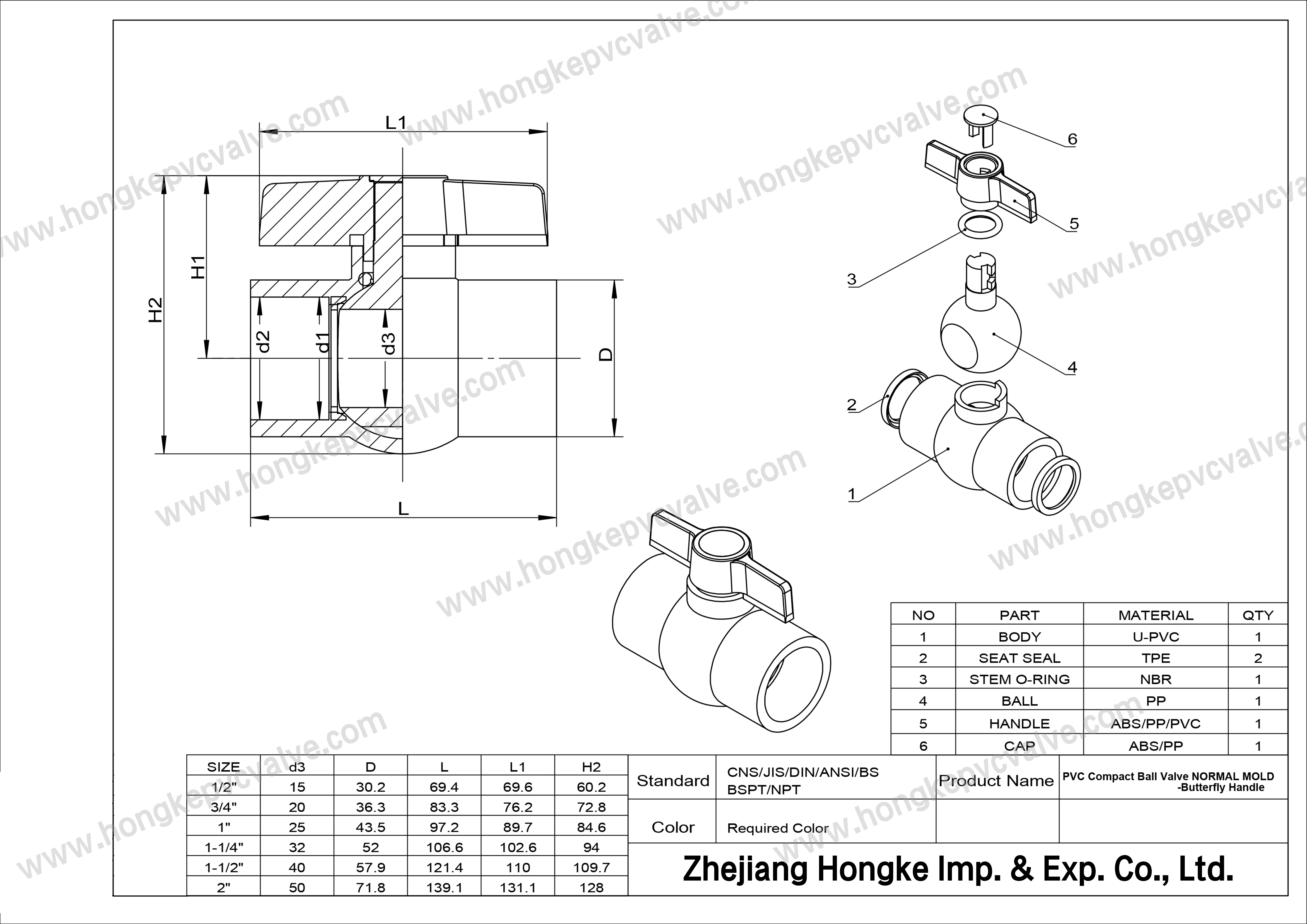 We are China's "Head" level plastic valve provider with 13 years of professional experience. Welcome to visit and inspect, you will find the difference with others.
Yes. We have our brand name. But we can also provide OEM service with the same quality. We can review and accept customers' designs through our professional R&D team, or design according to customers' requirements.
Trust our experience.
We provide a variety of professional products of different standards to more than 60 countries and regions around the world.
Trust our authority.
We have professional inspections and certificates.
Trust our solutions.
We have a professional R&D team, QA&QC team, and marketing team. With multiple patents and awards, we can provide the highest quality OEM products and help you with any logistics issues.
Trust our production capacity.
We have more than 40 machines running at the same time. And these numbers are increasing year by year.
Trust our quality and service.
We have the power to make every penny count for you. It's worth every penny you pay us.
Please request samples by mail.
After the price is confirmed, we can apply for free samples for inspection.
Samples are free.
If you need sample confirmation, we will provide you with the sample for free and charge the freight. If you think the prepaid shipping is lower than the received shipping, you can also pay us for the shipping in advance and let us prepay the shipping.
Shipping is free.
If you end up placing an order with us, we will cover the shipping costs and deposit the money into your deposit.
        We have prepared a catalog of the best selling products on the market, contact us to get it for free!